10 Species at Risk of Losing
Over 31,000 species have been documented for Ireland. Species diversity in Ireland is maintained because of the variety of habitats and environmental conditions available for plants and animals to live and reproduce.  This diversity of species is threatened because of persistent management and other human induced changes leading to the reduction of habitat quality and general environmental degradation. For the taxonomic groups for which formal conservation assessments have been completed we know that, on average, just over 20% of species are threatened with extinction in Ireland. Here is a selection of just 10 of Ireland's most threatened species.
Curlew
The breeding population of Curlew in Ireland has suffered a dramatic decline from about 5,000 breeding pairs in the late 1980s to currently as few as 130 breeding pairs. This is a decline of about 97% over 20 years. They nest in damp, rushy pastures and bogland. The decline has come about because of the loss of these damp rushy pastures as a result of land 'improvement', land abandonment and afforestation, and to nest destruction by predation. Good numbers of Curlew are still seen during the winter months, as birds that have bred in Scotland and Scandinavia arrive to our shores to spend the winter months (Photograph: Ken Billington).
Atlantic Salmon
Stocks of the wild Atlantic Salmon have declined by 60% over a 40 year period, and there are now far fewer fish spawning in Irish rivers than in the past. The decline has been due to many factors including over-fishing, pollution, sea lice, disruption to migration due to changes in river morphology, and ocean warming  due to climate change. Despite mitigation and conservation measures being implemented in Ireland and across the North Atlantic region, there is still a fear that these may not save this iconic species from extinction in Ireland over the long term (Photograph: Hans-Petter Fjeld).
White Skate
The White Skate (Rostroraja alba) is a large, slow growing and long living skate that occurs in the Atlantic, Mediterranean and the southwest Indian Ocean. In the past it was known from a number of locations along the west coast of Ireland, but in recent years it has only been recorded from Tralee and Galway Bays. These are the only two known refuges for this species in the north eastern Atlantic. It has been assessed as Critically Endangered in Ireland (Image: Alamy).
European eel
The European eel (Anguilla anguilla) is widespread in Ireland, found in rivers and lakes of all sizes. Irish eels spawn in the Sargasso Sea in the Atlantic Ocean and the larvae, know as glass eels, migrate to Irish coastal waters then swim upstream through Ireland's river network. They remain in freshwater for decades before the mature 'silver eels' migrate downstream again to return to their breeding grounds in the Sargasso Sea. Though still widespread, the numbers of eels in Ireland has suffered a catastrophic decline, with the current numbers of glass eels being less than 7% of what was present in the 1980s. Consequently, the European eel is assessed as being Critically Endangered in Ireland (Photograph: GerardM).
Thrift Clearwing
The Thrift Clearwing (Pyropteron muscaeformis) is a day-flying moth of coastal rocky shores where its larval foodplant Sea Thrift (Armeria maritima) grows. The adults fly from early June to late July. It's conservation status has been assessed as Critically Endangered in Ireland. Prior to 1970 it was known to occur at a number of coastal sites from Dublin southwards to Clare, however since 2000 it has only been recorded at two sites in west Cork. The reasons for this decline are unknown (Photograph: Eamonn O'Donnell).
Freshwater Pearl Mussel
The freshwater pearl mussel (Margaritifera margaritifera) is a long-lived bivalve mollusc found in clean, fast-flowing rivers. On average, freshwater pearl mussels live for at least 100 years, making them one of Ireland's longest living animals. Because of their complex life cycle they are extremely sensitive to pollution, particularly sedimentation of river channels, resulting in very few young reaching maturity in order to sustain healthy populations. As a result, 90% of the population has died out across Europe, and it is a Critically Endangered species in Ireland (Photograph: Joel Berglund)
Twite
The Twite (Carduelis flavirostris) is a small finch found in the north-west of Ireland. It is similar in appearance to the female Linnet, but smaller and more dainty. At one time it bred all around the Irish coast, where it found a plentiful food supply from the weeds that grew in arable fields. However, with the increasing specialisation of agriculture and the overgrazing of uplands heather, suitable breeding habitat has become restricted and Twite are now confined to peatlands in counties Mayo and Donegal. It is estimated that the current breeding population is only around 100 pairs, making it extremely susceptible to extinction as a breeding species in Ireland (Photograph: Mike Pennington).
Great Yellow Bumblebee
The Great Yellow Bumblebee (Bombus distinguendus) is Endangered in Ireland. In the past it was widely distributed across the country, though it was probably never common. It has declined so drastically that it is now known from only a few remaining populations. The healthiest of these is on the Mullet Peninsula in County Mayo. It emerges from hibernation later than most other bumblebees to coincide with when grassland floras are at their peak, and has declined in parallel with this habitat. It is also Vulnerable at the European level. The opportunities to see this bright yellow bumblebee in Ireland could be nearing an end unfortunately (Photograph: Dara Stanley).
Alpine Saxifrage
The Alpine Saxifrage (Saxifraga nivalis) is a lovely little arctic-alpine species that is at risk because it is exceptionally rare in Ireland. It is known from a single site on limestone cliffs in County Sligo. It may have had a broader distribution in the past, with the current population representing an ancient glacial refuge. It's part of our heritage, but with one population remaining the risks from random stochastic events are high. In Britain most known populations are in Scotland where it doesn't seem to be declining (Photograph: Bjoervedt).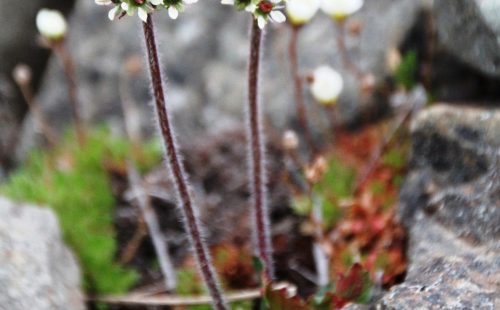 Wall
The Wall (Lasiommata megera) is a butterfly of dry and open unimproved habitats. It has suffered a dramatic contraction in range of over 50% in Ireland in the last 20 years, and is now absent from many areas where once it was common. It is still found at many inland sites and notwithstanding its contraction in range, it can be abundant at coastal sites, particularly those in the west and northwest of the country. The Wall is one of six species of butterfly threatened with extinction in Ireland (Photograph: Katya).